What is Video Wall?
A video wall is a large visualization frame including multiple screens. Video walls include multiple monitors or televisions that were placed closely together to look like one large screen surface. Video walls are available in various sizes. The selection of the screen size depends on the content, kind of business and viewing distance.
Today, video walls are seen at different locations in metro cities like conference rooms, airports, shopping malls, cinema halls, etc. Sometimes lack of knowledge of people about video walls leads to waste their money, as desired results are not achieved only because they haven't designed their video wall solutions correctly. 
Magham digital signage solutions is a full-service provider of complete digital signage solutions includes:
Mosaic Video Walls​: Let your imagination be limit by Magham digital signage's mosaic video walls. 
Portrait Video Walls: Screens in portrait mode bring another dimension to your positioning.
Video Walls Strips: A series of 2 to 100 screens can be placed side by side to create video wall strips that cover any space.
Architectural Video Walls: Mix and match different sizes and shapes of displays to create special video walls designs.
Simultaneous Delivery of Mixed Content: Separate video wall into multiple zones that show different content.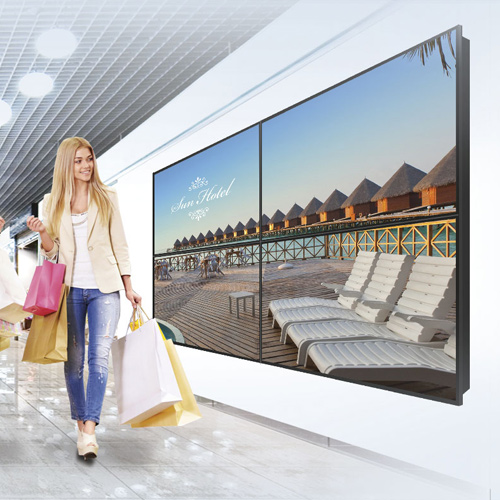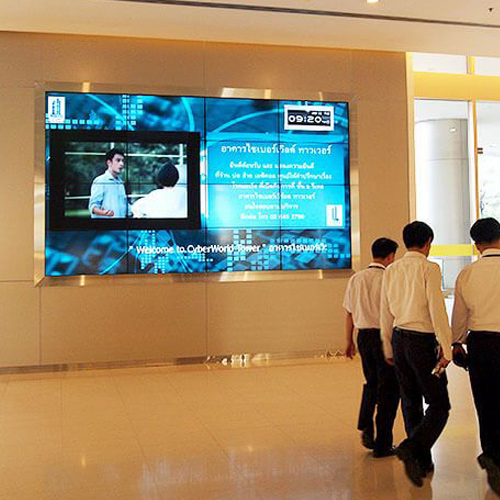 Benefits of Video Walls
Customizable: Magham digital signage's designers can arrange screens in all kinds of patterns, how screens fit together is flexible and up to you. Customize everything from the number of screens, shapes, and sizes to the screens, layout.
Higher content quality: The quality of sizable content is the basic reason for selecting video walls from another type of digital signage. No matter what size your display is, you get high-quality images. Consistently great colors and clarity. Video walls present higher resolutions than ever before as the resolution itself increases with each individual screen added to this digital puzzle. This means that besides the size of content, its resolution and quality increases. As you'll see, with every additional screen, the overall resolution will increase.
Greater efficiency: Video walls bring the "wow impact" and the potential to increase brand awareness wherever they're installed, whether it be a retail store, beauty salon, gymnasium, corporate lobby, or sports bar. Video walls convey your message right at the place of purchase.
Higher interactivity: Video walls enhance Customer Experience. Create an immersive and engaging experience for your employees, visitors, and customers with interactive features compatible with tablets and smartphones.
Broad content manipulation options: Video wall controller provides the owner with many tools on the backside. The controller effectively turns the screens into a single canvas, onto which content can be resized, arranged, or layered in some creative layouts.
Fortunately, the video controller is not designed only for designers. Anyone with a basic level of skill can simply manage them. That's important for businesses that require to switch content out regularly. A user accesses the backside and updates content. 
Helpful for any kind of industry: video walls can be of terrific use for any industry you can name. It allows for content to be shown extraordinarily and more efficiently than a standard digital display. Advertisement is a wonderful use for video walls and can be used for selling advertising space if the location is prime.
However, A video wall is an effective method of drawing attention to a particular area in your building or a product, which can lead to customer satisfaction and ultimately more revenue. Inform and engage your audience in a high-impact way with eye-catching video walls that seamlessly reinvent your area. 
Magham digital signage creates video walls specifically designed to satisfy your unique needs and help your customers get more out of your space. Magham digital signage solutions provide everything you need to take your customer experience to the next level. Make a big impression with Magham digital signage 's stunning, reliable and immersive video wall solutions
Magham digital signage offers seamless installations, custom content creation and dedicated technical support to ensure that you get the most out of our impressive video walls.